---
Dave & Ann
Lowrey
WBCCI: 5074
---
Updated 8/8/06:
Added wiring diagram & close-up of mounting bracket
Updated 8/20/07:
Fixed broken reference links, cleaned up some of the text and added photo of shunt
Updated 10/12/07:
Fixed a typo on the "Upgrade" page (The 50% discharged voltage values).
History
We always thought that having Solar Panels on our 1977 Airstream trailer would be a cool thing, but we never really had a need.
Enter a 1978 Argosy.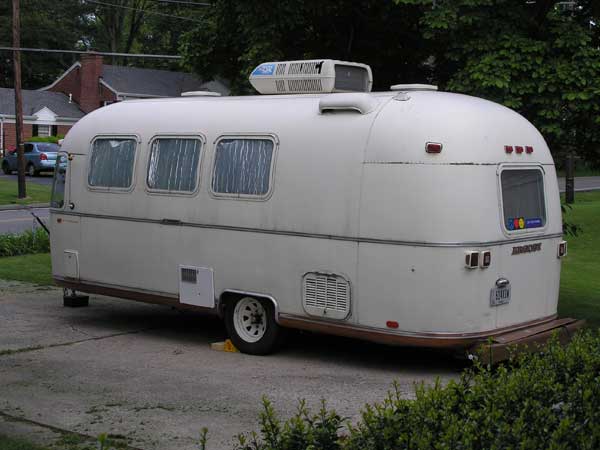 We bought the Argosy off of eBay, and it turned out to be in a bit "rougher" shape than we expected. A previous owner had removed the LP Gas Dometic refrigerator and had replaced it with a small 110 volt AC unit. This would work fine if you only took short trips to campgrounds that had electric hookups, but we planned to do much more with this trailer. We wanted to be able to boondock (camp without any hookups) overnight. We may do this several days in a row before we stayed in a "real" campground. The 110 volt refrigerator just wouldn't do in this situation.
So we checked the catalogs and web sites for a "RV" fridge that would run off of LP Gas or 110 volt AC. Much to our dismay, the current model that replaces the original refrigerator was 1" too tall! In order to get one that would fit in the existing opening, we would have use a much smaller model.
After further research, we found a refrigerator, from Nova Kool, that runs on 12 volt DC. This utilizes a highly efficient compressor so that we should be easily able to run it off of the two 12 volt batteries in our trailer. Now we can last at least 24 hours without having to plug in to 110 volt AC.
But, what if we wanted to go for more than 24 hours? What if we also wanted to run other appliances such as lights, water pump, etc? The batteries will only last so long before they run out of juice, and we didn't want to have to count on recharging them from our tow vehicle.
The answer, of course, is Solar Power.
After much planning, research and gnashing of teeth, we took the plunge and designed, ordered and installed solar panels on our trailer. The rest of this web site details what transpired...
NEXT: Planning
You are Visitor Number: